Published on 30 January 2022
Meet our GEL December Giveaway Winners!
Congratulations to Conor, Elissa and Fay for being drawn as the winners of our GEL December giveaway.
Glen Eira Leisure held a prize draw open to anybody who held an active membership on the 17th of December, offering three separate rewards:
A 70-inch 4K Smart TV.
$500 travel voucher.
Three-month GEL membership.
Fay, who attends the centre three times a week, was very pleased to have claimed the membership prize.
"I'm really rapt that I won the three-month membership," she said.
Fay has been a GEL member for eight years and likes to stay active by taking part in Zumba Gold and Tai Chi.  
Our second lucky winner is Elissa, who got her hands on the $500 travel voucher.
"I was just really shocked that I actually won something, I wasn't expecting it and even though it was the second prize I feel like it was the best prize," Elissa said.
The 25-year-old has already travelled to England and New Zealand in her lifetime but has her sights set on trekking other corners of the globe.
"I'd really like to go to Italy, but if not Queensland or somewhere up north where it's nice and warm," she said.
Elissa, who moved from Geelong early last year, says she enjoys the social benefits of being a GEL member.
"There are quite a few people that I talk to in the classes that I go to because we go to the same classes every week.
"It's nice to be able to catch up with them and see how they're going and just have a break and normal life and bond over the things we have in common," she said.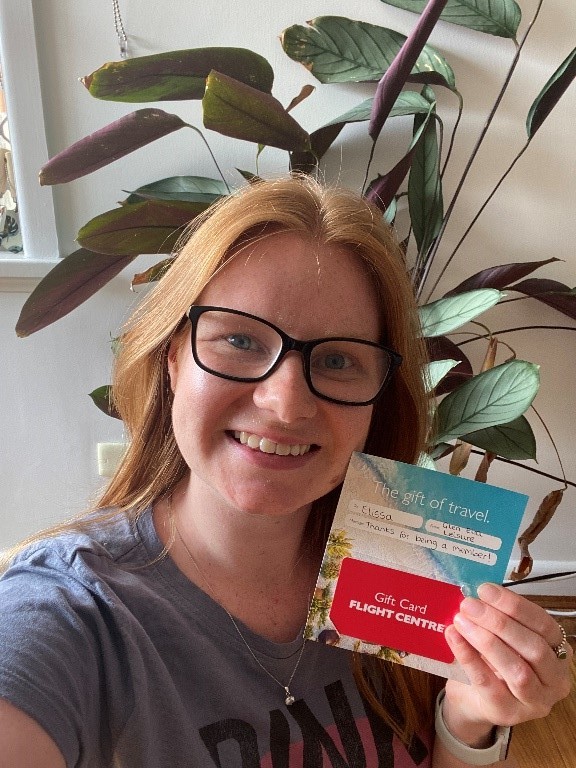 Finally, Conor brought home (with some help of course) a huge 70-inch television.
"It was a ridiculously good surprise and a massive shock," he said.
"I didn't believe the person who called me, at first I thought it was a prank and I finally cottoned on that it was legit, and I was absolutely over the moon."
Conor, who hails from Perth, recently moved to the Glen Eira area, and admits he's "lucked out."
"I've only been a member for a month or so… we moved house, moved suburbs and joined… it's all timed really well," he said.
Conor works out in the gym 3-4 days a week and says the flexibility of the centre is his favourite part about being a member.
"I like the ability to join different aspects of wellbeing at any time, so it's not just the gym, it's the pool, it's the classes you can go to, it's the flexibility that comes with being at Glen Eira Leisure as opposed to being at your standard gym," he said.
Conor says he's hooked the TV up in the man cave and it's ready for the footy season to come.
Thanks again to all members for their support and we hope to reward more of you in 2022!
Interviews and Article by Dylan Smith.